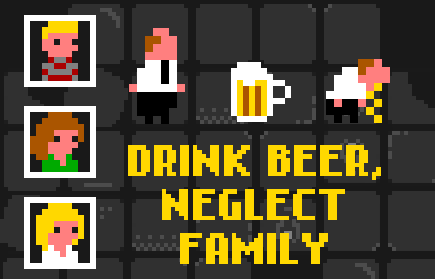 Do you feel that drinking your troubles away will solve all your problems???
Think again!

Many a family has been torn asunder by the ravages of drunkenness and alcoholism. Among other evils. Sometimes folks can't help it(mental illness). Other times chronic miscommunication and disunion within the family tempts one to find an easy fix. Then there are those who just love to relish in the lifestyle until it is too late.
Unfortunately, this fella has chosen the easy rout of instant gratification. All his personal issues have driven him to the draught. Now he must face the music and deal with the consequences of his actions. Use the Arrow Keys to walk on platforms and climb ladders(to consume another beer and avoid mental pics of his family) and the Z Key to hop. Your goal is to ignore your conscience and imbibe each glass of beer that happens to show up. Just don't be surprised with the affects.
Review of Drink Beer Neglect Family
I loved the retro look and feel throughout. Though I'm not sure if the developer was glorifying or simply demonstrating the ill effects of being drunk and unable to function as a moral lesson(I vouch for the latter). Otherwise, this would make a great arcade hit around 1980!
Ratings 4 Stars!
Drink Beer Neglect Family
---------------------------------------------------------------------
Like what you've just read? Then why not keep up to date and Subscribe Right Now to get reviews like these delivered right to your inbox!