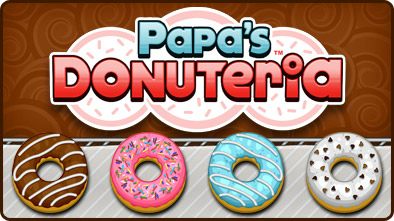 Do you like honey dipped curlers? Or would you prefer them stuffed with barbarian cream? Well I can't promise you anything. But Papa Louie has posted a help-wanted sign in his new donut shop. Right inside Louie's Adventure Land in El Paso, Texas. This ad promises instant access to Louie's Thundermobile Coaster for the first employee.
But as with many amusement park soft openings, at least one ride always winds-up shutting down. And you guessed it, The Thundermobile is in for repairs until next Summer. So now you've been hired on a job you really didn't want. All because of a perk Murphy's Law has forbidden you to receive.
As the new donut shop boy, you must take each order and prepare these sinkers just the way they like them made. You will be graded based on how well those donuts are moulded. Overtime, you can hire anyone to take some of the weight off your shoulders. Luckily, you nor anyone else has to abide by a strict dress code. The only bar is "dressy-casual". With the money you earn, upgrades can be purchased for a makeover. After the day is spent, tickets can be used to play Foodini's game show.
Yet another installment to Papa Louie's massive restaurant cabal. Flipline has now created Papa's Donuteria! With all the strategy you've loved from the previous editions. One thing you'll find new is the multiple-choice on how you and your workers will be dressed. One thing they should do in the future is give holiday themes for certain times of the year. As for this Italian linguine, what will he think of next?!
Ratings: 5 Stars!
For more Flipline time-management goodies, check out Papa Louie's...
Pizzeria
Burgeria
Taco Mia
Freezeria
Pancakeria
Wingeria
Hot Doggeria
Cupcakeria
Pasteria
And for a Papa-filled adventure, check out...
Papa Louie: When Pizza Attacks!
Papa Louie 2: When Burgers Attack!
Now go Play Papa's Donuteria!
-----------------------------------------------------------------------
Like what you've just read? Then why not keep up to date and Subscribe Now to get reviews like these delivered right to your inbox!