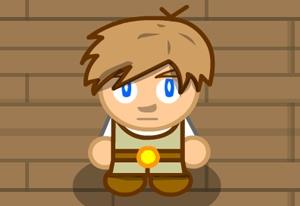 Once upon a time,
There lived a boy in Nasach Village on an island far far away. Unlike all the other inhabitants, this boy didn't have any sword or shield to protect himself. He was left for grandpa to take care of him. Who knew what would become of the lad.
The time had come at last! Comrade-The guardian of the village, quickly summoned this boy to take hold of his destiny. A fate that'll put an end to death and destruction and shower peace and tranquility upon the land of Nasach.
The Guardian Chapter 1: A Heroes Beginning
To begin the series on "The Guardian", Matt Vile introduces us to a sleepy little village on a mystical island wonder and adventure. Taken from the comforts of his own home, a young boy is entrusted with the responsibility of defending honor and truth. Of facing dragons in dungeons. Even death itself to bring the island of Nasach unto a new dispensation of peace and righteousness.
From the studios of Ying Yang Productions, "The Guardian" is an adventure-laden role playing game very reminiscent of "The Legend of Zelda". You walk around on the

Arrow Keys

and interact with the

A

button. Collect whatever you need or want using the

D

button. Hit the

S

key to slash your enemies. Just be careful you don't slay yourself in the process.
Review of the Guardian Chapter One
Role playing games that cater to the adventure crowds are my favorite online games! I especially love how this relates to Zelda The Windwaker. You know, the forests and islands. Even the background tune gives a little hint here and there. My only pet peeve would be the inability to save. But don't let that stop your adventure!
Ratings: 4.99 Stars!
Play "The Guardian" Ch. 1!
--------------------------------------------------------------------------------
Like wha
t you've just read? Then why not keep up to date and
Subscribe Now
to get reviews like these delivered right to your inbox
!