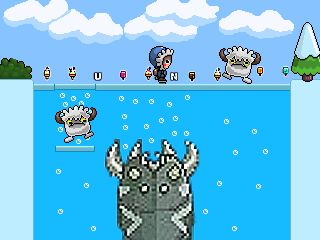 From the fine folks at Nitrome I give you Frost Bite. Designed by Mat Jon Annal, Heather Stancliffe, and Aaron Steed. While the wonderful music is brought to you by Lee Nicklen.
Enter a world of abominable snowmen and flying mountain goats as you make your way to the ice-cap atop each mountain. Use your hooker to reach new heights and slaughter your Himalayan foes. Be extra cautious of blowing snow and frost bites when inching towards each peak.
Frost Bite Review
As with any game that comes from Nitrome, the music is very upbeat and digital(in an old-school fashion). With crisp sound effects and finely tuned graphics, these guys know how to serve a well-proportioned nostalgic meal! The platforms themselves are fairly adventurous and attention-grabbing(as any 2D action figure ought to be). So based on this brief review, "Frost Bite" is in every way worth your salt!
Ratings: 5 Stars!
*[Update: Part 2 is now up and as good as part one.]*
-------------------------------------------------------------------------
Like wha
t you've just read? Then why not keep up to date and
Subscribe Now
to get reviews like these delivered right to your inbox
!