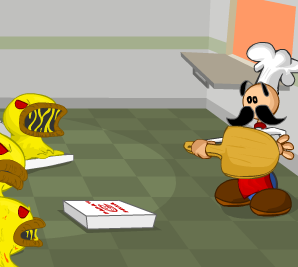 Papa Louie-Your typical Italian pizza boy just opened shop downtown. Many of the locals raved about his mean pizza. So much so, they practically lived there! Renting apartment space just above his pizzeria.
Thanks to "Big Pauli's" crushida peppers(his secret ingredient), the place is bombed from the moment the doors open until they close! Filled with hungry customers just yearning for another bite! He had no problem running the joint. Until something horribly went terribly wrong.
The expiration date from the new batch of crushida's had just expired. To make matters worse, Roy was in charge that night. Without even thinking, he seasoned all his clients pizzas with that sour batch. Instantly! Those yummy pies jumped to life for all to see! Customers were taken captive in a mysterious dimension filled with more living-edibles from Papa Louie's kitchen cabinet.
Now you must help Papa Louie rescue these customers from the fangs of his own menu resturante. Use the Arrow Keys to move and Space to jump and glide with hat when in midair. Hit Z to assault and X to detonate Crushida Bombs. Mind you as I mentioned earlier, it ain't just pizza you'll have to worry about. Tomatoes, onions, peppers, submarine heroes, you name it! Seems like all your ingredients are turning against you Louie. This means war!;)
Review of Papa Louie: When Pizza's Attacks
The soundtrack quality and music is pretty much what you'd expect from your typical Italian platformer. Very smooth flavor with romaine and plenty of oregano!
The game pretty much has a cookie-cutter appearance(or should I say a hand-tossed experience). Yet, the gameplay just draws you in-crush red peppers in all. You just can't help but appreciate the way he delivers his pizza. To wrap things up, let me tell ya. Weather you like pizza or not, your in for a pizza-platforming bonanza!
Ratings: 5 Stars!
Play When Pizza Attacks!
----------------------------------------------------------------------------
Like wha
t you've just read? Then why not keep up to date and
Subscribe Now
to get reviews like these delivered right to your inbox
!