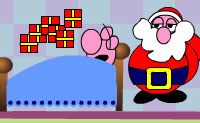 On this Christmas Eve, Santa was on his way to his sleigh. A bag full of wrapped toys behind him, a warm dozen homemade chocolate chip cookies and a freshly-brewed cup of hot chocolate from MRS. Claus, he was up and ready to deliver goodies to the nice list and coals to the naughty ones. Until his back gave out as he took off.
It's now too late to go back. All the children of the world just can't wait for the crack of dawn to gleam! To sit under the tree and open presents as a family. While the fire crackles to keep them warm as they sip on a cup of eggnog. Now they sleep to make the night watches slip by. Until one moment later, it's Christmas Morning!
So now Kris Kringle must use his magic to manipulate the elements to assimilate presents under every Christmas Tree across four corners of the Earth. To do just that, you'll need to either click on Mr. Snooze Head, honk a few horns, or fuel a draft from an open window. Unfortunately, every house has a dog, a pooping bat, and a sleepwalking grandma to contend. You must guide each gift through the house until they reach ground zero.
Santa's Odyssey Review
This was a unique idea. Directing presents through every nook and cranny of the house. The game does get challenging after a bit. If you hate repetitive music, your in luck because there's no soundtrack to be found. The only downside it the game's brevity. Overall, I give Santa's Odyssey four stars!
Ratings: 5 Stars!
Click Here to play the game!
-------------------------------------------------------------------
Like what you've just read? Then why not keep up to date and Subscribe Now to get reviews like these delivered right to your inbox!